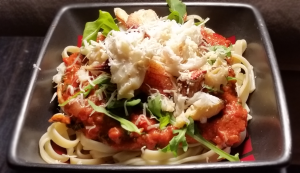 Total time: 30 mins!
"Get excited that's fast!"
Ingredients 
3.5 Tbsp. olive oil
2 shallots
3 cloves of garlic
½ Tbsp. of red pepper flakes
½ teaspoon salt
2 cups of tomato sauce of your choosing
¼ cup heavy whipping cream
1 lb. linguini
¼ cup parm or favorite Italian cheese
I.5 cup baby arugula
½ cup chopped basil
1 cup peas
2 lbs of Anello family Crab
Directions
Heat a large skillet with olive oil with shallots and garlic for 1 to 2 minutes. Add salt, tomato sauce, and heavy cream and stir. Add any additional spices of your choosing to put your own signature on your sauce. Boil pasta per directions. Add pasta to simmering sauce with Italian cheese. If too thick add a bit of pasta water, cool trick! Stir in peas, basil, crab and arugula. Simmer till all is equal temp! Enjoy from my family to yours!